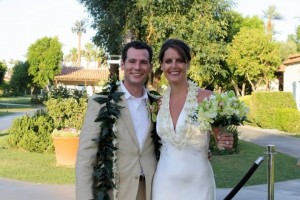 Jay O'Keefe & Jenn Mattiace were married in a beautiful outdoor ceremony in LaQuinta, CA over Memorial Day weekend. Jay has been with O'Keefe & Partners since 2006 & Jenn is a Legal Assistant at the Lobel Firm in Newport Beach, CA. Like Jay, Jenn is originally from the East Coast.
We wish them much happiness in their future!
Their dog Bailey kept busy holding down the fort while they traveled. He was hoping to be paid in Domino's Pizza!